As we all know Florida gets a lot of rain each year. That rain can wreak havoc on your home if not properly diverted by gutters. Gutter systems seem simple but they have a very important role for your home. If the gutters are not properly diverting water this can cause issues for your foundation. Water can create voids under your foundation leaving the foundation susceptible to cracking or separating allowing moisture into your home. Gutters are also nice to have above walkways to divert the water shedding from the roof when trying to bring groceries into your home during a rain storm. Ensuring your gutter system is maintained properly goes a long way.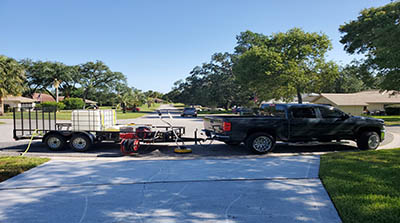 Risks of Gutter Damage
For many homeowners in Florida, gutters are essential to divert and shed water from your home correctly. The gutters job is to divert water away from the homes foundation. Once they become clogged, it is essential to get them cleaned right away to avoid more expensive repairs and damage further down the road. Clogged gutters can cause sagging due to the weight and possible water damage from not draining properly. You can prevent this by hiring a gutter cleaning service to ensure water is able to flow freely through the gutters.  
Spring Hill Pressure Washing can help you prevent damage to your gutters which will ensure your gutters are functioning as designed shedding water properly. The most common issues homeowners face with their gutters are clogged gutters, gutter sag from being too heavy or worn fasteners, mildew growth and staining, and leaking gutters. In Spring Hill, Florida we recommend having your gutters cleaned at minimum annually.  
Improperly Installed Gutters
For water to shed correctly, gutters need to be angled toward the downspout to help the water flow with gravity toward the downspout. The angle should be a quarter-inch for every 10 feet of gutter. If you notice your gutters sagging or not diverting water properly, check to see if there is standing water after a rainstorm or use a hose. You can usually fix these issues with simply bending the gutter into place or cleaning the debris from the gutters and downspouts. If the gutters were improperly installed you may need to have new hangers installed correctly.
Clogged Gutters
The single most common gutter problem homeowners have is clogged gutters. When the gutters become clogged, the blockage impedes the flow of water causing your gutters to overflow. When gutters retain water the weight of the gutters cause the hangers to be weaken and deform leading to additional exposure of water damage. This can also cause damage to the surfaces below or around the gutters such as pavers, water spilling onto the pavers will wash the sand from the joints.
Due to the amount of rain we get in Spring Hill, Florida, we recommend having your gutters cleaned twice a year. The frequency of gutter cleaning may change if you have a lot of trees around your house, the leaves and other tree droppings build up quickly. Typically gutter cleaning should be performed in the fall and spring before the summer rainy season and colder winter months. As a pressure washing company we offer gutter cleaning to remove debris from your gutters to promote proper water flow and water diversion from your home.