Driveway Cleaning
Driveway Cleaning is a major curb appeal killer, your driveway is one of the busiest areas on your property. It can also be one of the dirtiest due to tire tracks, oil leaks, vehicle fluids, and other harmful chemical spills. Considering this is the first impression that most visitors see, a dirty driveway is less than appealing. You can try hosing down your driveway, but that will not remove stains that have set into the porous materials.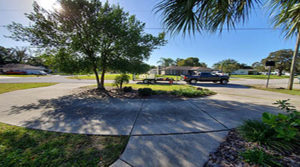 Driveway Pressure Washing
Our team of highly skilled and experienced technicians specializes in hard-to-remove stains and chemical spills, including each of the following:
Rust
Mildew
Microbial Growth
Tire Marks
Paint
Spring Hill Pressure Washing is the go to driveway cleaning company in the Nature Coast FL area. We offer simple solutions to those stubborn stains and microbial growth that make your driveway dirty. The items listed above absorb into the porous materials if left uncleaned for too long. A professional pressure cleaning is the best way to safely remove these stains and chemicals. Scheduling an annual regular cleaning will ensure that spills do not have time to become permanent.
Learn more about pressure washing services