House washing is performed with one of two techniques: pressure washing or soft washing.  The pressure washing method involves higher-pressure water and soft wash involves a combination of chemicals and low-pressure water. The preferred method is soft washing to avoid paint removal and other surface damages that can be caused by pressure washing depending on the surface materials being cleaned.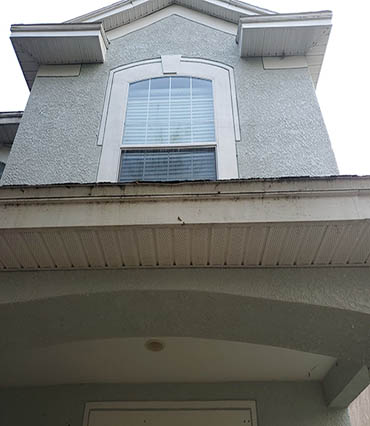 Pressure Washing or Soft Washing?
Pressure washing nozzles have high-pressure directional jets, which allow you to adjust pressure. The stream from a power washer is a much better choice for house washing compared to regular garden hose due to its ease of control and pressure. Pressure washing is mainly used to clean surfaces like driveways, walkways, and stucco walls. Pressure washing is incredibly proficient for sidewalk cleaning around your property as well. There are also surface washing tools that can be used to speed up a job as well as leave an evenly cleaned surface.
On more delicate surfaces such as roof cleaning, the preferred method of cleaning is a soft wash. Different materials such as siding, or wood, or even a fence should be cleaned with the soft wash cleaning method. The chemical mixture applied to the surface for the correct amount of time will allow the chemical to clean the surface, once the chemical is done simply rinse the surface off with water and your surface is cleaned. Another benefit of using the softwash cleaning method is the effectiveness to kill and prevent mold and mildew growth. Many homeowners prefer the use of soft washing because it clean and protects the surfaces being cleaned and it is environmentally friendly.
House washing services have become popular, with many homeowners relying on these service providers for exterior cleaning services. As we all know in Florida there are a lot of retired homeowners, why perform DIY pressure washing services when you can go golfing and pay fair price for the service? House washing aims to remove mildew, grime, dirt, and mold adhered to the surfaces of your home to give your house a warm and welcoming glow. This process may seem simple, but consider hiring a house wash service to avoid spending your time and possibly causing damage. Choose a house wash company that fits your needs by asking questions.
Benefits of house washing
Home exteriors are constantly exposed to the brutal Florida elements, which will take its toll over time wreaking havoc if not maintained. These elements constantly beat on your home exterior surfaces, contributing to discoloration, mildew, and possible damage.
Moisture during the winter can cause possible damage and stains to your home's exterior surfaces. If you allow the grime to sit for long periods of time, allowing the stain to be cooked into the material, the stain may become permanent. Mildew and mold can damage painted surfaces and concrete coatings like sealers if left unmaintained for long periods. 
House washing will keep your property looking fresh and clean all year long. By making house washing a part of your routine home maintenance, you can keep up with staining and preventing possible moisture damage by easily identifying issues early into their development.