Is it Okay to Power Wash Pavers?
Yes, it is fine to pressure wash pavers. But, like any other home maintenance there are important factors to take into consideration. It is important to use the correct PSI and tip to ensure that you do not damage the concrete pavers.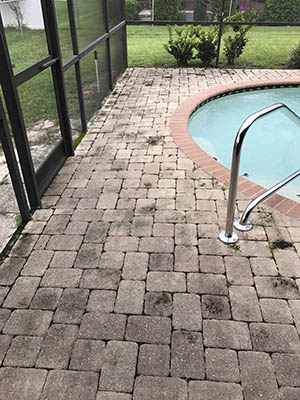 How to Clean Pavers the Wrong Way
While on the subject about damage, using acid as a cleaning agent can do more harm than good to your patio. Here are some tips for keeping your patio clean throughout the year and what to avoid while you're cleaning your patio.
Keeping the areas around your pavers clean will help keep your pavers clean and prevent penetration of the sealer.
Keep your gutters clean. Clogged gutters can lead to moisture being directed into areas causing stains and microbial growth. 
Plants, pots, and other porch decorations can lead to stains and mildew growth on your pavers, causing unsightly stains. Ensure regular cleaning under these items, or choose decorations that do not promote grime, algae and mildew growth. 
Clean with soft bristle brushes instead of steel wire brushes. The stiff steal can remove portions of the sealer and open your pavers to holding moisture and retaining staining.
Using acid as a cleaning solution is very abrasive. Acidic cleaners used on concrete pavers is not a good choice to use, this will cause damage to the pavers. The same thing applies to using acidic cleaners on other natural materials such as sandstone, limestone or marble.