Common Pressure Washing Mistakes
Pressure washing services may look easy but using pressure washing equipment improperly can result in damage and or injury. If you are unfamiliar with the equipment, process, or understanding of possible damages, we recommend you hire a professional pressure washing service provider. Spring Hill Pressure Washing provides exterior washing services to homeowners in Hernando County, Citrus County, and Pasco County, Florida. If you do not feel comfortable or have the equipment or time to pressure clean your homes exterior yourself consider hiring a professional. Below are common pressure washing mistakes made by homeowners: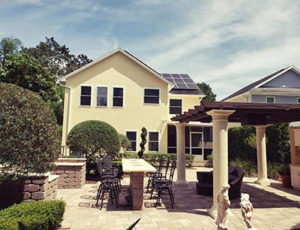 Hiring a Pressure Washing Company
A very common mistake we see is homeowners hiring the first company that gives them a quote, you should feel the company out and check credentials prior to hiring anyone for pressure washing services. Do not always hire based off of the price, there is a reason a company is doing pressure washing cheaper than others. They may be using cheap materials or standard equipment. We recommend calling each company and comparing rates as well as asking questions about the specific surface you intend on having cleaned. Is the company insured, how long have they been performing pressure washing services, what type of chemicals are they going to use, etc. Are they insured? You should never pay a contractor prior to the service, a reputable company will only collect payment when the work is complete. There may be some upfront cost if your contractor is buying a large amount of materials, but they should never be paid for labor that has not been provided.
Exterior cleaning is a great way to maintain its curb appeal, making your home more welcoming to your guests. If you own a business, you understand the image of your business location should be clean and presentable, hiring a commercial pressure washing company to maintain your properties exterior to keep your business in tip-top shape.
Equipment
Understanding the equipment you are using is a very important step to the process of pressure washing your homes exterior surfaces. Although it looks simple to operate a pressure washer, understanding the proper pressure to clean a particular surface is important to avoid damaging the surface. Not only can it cause damage to the surface you are trying to clean but could cause an injury if not handled properly. Also understanding the different attachments for the pressure washer will save you time, having a pressure washing surface cleaning attachment will save you a considerable amount of time while pressure cleaning driveways. Hire a pressure washing company to save time and energy.
High Pressure
The most common mistake made by homeowners is using the wrong amount of pressure when pressure cleaning different exterior surfaces. Using too much pressure can take the protective coating (paint) from your homes exterior walls and permanent etching on concrete driveways. High pressure used on surrounding areas such as plants can be harmed. Roof cleaning should be performed using a soft wash service depending on the roof material. Hiring a pressure washing service that knows the proper cleaning techniques to use on different surfaces can save you time and money by using the correct tools/process and by avoiding damaging the surface you are cleaning.
Cleaning Process
When cleaning your home or business's exterior surfaces, keep in mind the order in which each surface should be cleaned. Though this is not going to cause any harm, it will speed up the cleaning process and prevent you from doing a task twice or more. Start with cleaning your gutters, after your gutters are clean move to the roof cleaning, then move to the house wash which includes the soffit and fascia. Once the gutters roof and house are cleaned you can move to the flat surfaces like the driveway, walkways, and deck. When all of the exterior surfaces have been cleaned, it is time to move to the window cleaning.  Washing in this order ensures you don't need to rinse more than once eliminating the risk of contaminating areas that have already been cleaned. This will save you time and your sanity.